Every day, companies fall behind and lose credibility as masses of vital information becomes lost in their "things to update on the website" pile. With their intricate structures and complex coding, static sites turn critical updates into grueling, sometimes impossible tasks that typically rely on the availability of a third-party to keep the site current.
As a result, timely information becomes "old news" and often fails to ever reach its target Web audience. Fortunately, dynamic websites provide companies with little or no technological experience the simple tools for quick site updates without the services of professionals
What's a static site?
The first generation of website designs, static sites require a knowledge of programming software and hardware for their creation and continual maintenance, usually by a design firm or other professional with HTML, Javascript and other Web technology expertise. Simply put, you need a professional to not only create your site, but also to keep it up to date. Static sites work well for companies who need a few basic Web pages of simple content, whose site rarely or never requires updates, and whose business requires no e-commerce.
What's a dynamic site?
The evolution of website design, dynamic sites provide the latest site content to viewers each time they visit or refresh the site. How is this done? All information (images, graphics, copy, links, etc.) is stored in a database, which is called upon to the create each site page on-the-fly, or "dynamically," every time a visitor comes to or refreshes the site. When a visitor views a page in your site, the database is contacted to serve up your site's latest content.
You may update your site in real-time from any Internet enabled computer via the Content Management System.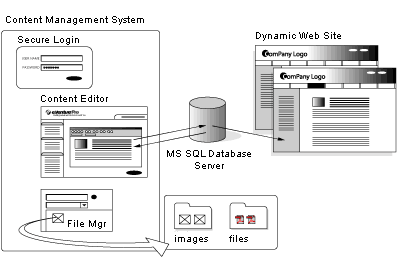 Because of their structure, these sites allow for constant, immediate site updates, as frequently as required by the business. Allowing companies to independently manage and update site information from any Internet enabled computer, dynamic sites give businesses maximum control.
Static Sites: PROS
Lower development and hosting costs to start
Shorter development times
Good for less intricate sites that require little or no updates
Static Sites: CONS
Expensive, time-consuming updates, relying on third-party or professional assistance
Businesses retain little or no site content control
Site management requires specific programs, hardware and/or software
HTML knowledge is typically required
Poor e-commerce capability
Browser compatibility issues increase visitor difficulties with site
Complex site organization presents difficult global site updates
Dynamic Sites: PROS
Businesses retain maximum control over their sites with online site management
Instant site content updates provides visitors the most current information immediately
Superior e-commerce capabilities
Fewer "physical" pages on the server
Browser capability issues can be eliminated
More available options:

Content archiving holds content safely out of view
Content tailoring serves appropriate information to specific visitors
Data collection harvests specific information from visitors for future use

Excellent for complex site architecture and/or larger sites
Dynamic Sites: CONS
Higher initial development and hosting costs than with static sites
Lengthier production and development time